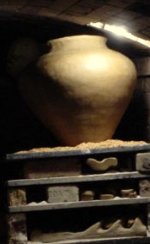 Achievements
Workshops:
Children:
clay mask making
pit firing
ceramic tile project
demonstration in clay, hands on experience and tours to kindergarten through high school and university students
Adults:
annual kiln firings with professional ceramic artists
clay workshop for women focusing on the "ancient feminine"
collaborative construction of the timber frame retreat cabin
udu clay drum making workshop
hands on clay workshop for ceramic artists, local art organizations and art teachers of public schools
Featured significant people involved in the arts:
Karen Karnes: support and fundraising for the documentary film "Don't Know, We'll See", about the life and work of internationally recognized Vermont ceramic artist Karen Karnes, a seminal figure in American ceramic art.
Shigeyoshi Morioka: Japanese ceramic artist. We facilitated in an exhibition of his work in a US gallery and his participation in International wood fire conference
Jacque Kaplan - passionate about art and discovering and nurturing new artists through his famous Paris-New York-Kent Gallery. His business acumen, his knowledge of the art world, his love for art, and his desire to help others transform their lives, have made him a beacon of inspiration for others
Arthur Williams, collector of ceramics from around the world and founder of the Museum of Ceramic Art in New York City
Claudia DeMonte - multi media artist, educator and curator of international exhibitions of women artists
Mentoring/ internships
Michael Friedman - worked with Al McClain with wood and heavy timber construction to build the retreat cabin
Christine Owen- worked with Joy Brown and was introduced to Shigeyoshi Morioka for a 2 year pottery apprenticeship in his studio in Wakayama, Japan
Sonia Finley with Janice Gordon - introduced Sonia, an emerging artist studying at Cooper Union to Janice Gordon an accomplished artist to be her assistant resulting in a life long relationship/friendship in art.
Collaboration with other organizations involved in the arts:
Japan Society of Fairfield County
Unison Arts and Learning Center
Washington Art Association
Brookfield Crafts Center
Sedalia Arts Center, VA
Networking
Through the gatherings and events at Still Mountain Center many people share common interests in creativity and the arts, making meaningful connections and relationships .