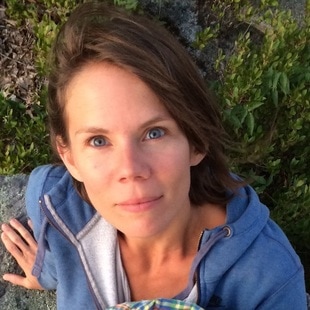 Laura Rissolo
Annual Fall Celebration Dinner
Throughout the year Still Mountain Center provides opportunities to bring people together who are committed to the Arts. One of our main events is the Celebration dinner in the fall. There is a magic created from the collaboration of artists, musicians, and people from all walks of life who love art. Join us on November 2, 2019 (RSVP by October 26, 2019)!
See details & directions.
We are delighted to feature Laura Rissolo, a plant-based landscape designer who explores the harmonious and sometimes tenuous heart people direct towards the landscape. Her work is guided by engaged travel, ecology, and a deep affection for the natural world. Laura will share her philosopy of partnership with nature as the foundation to reconnecting with our wild selves.
Laura holds a graduate degree in Landscape Design from The Conway School, a certificate from the Cary Institute's horticulture program, and a degree in Fine Arts and Sculpture from the University of the Arts in Philadelphia. Her firm, Land People Habitat, is based in New Milford, CT.
Some of the featured artists and musicians who performed or gave slide presentations about their work at the Still Mountain Center celebration dinners over the years:
Renée Jaworski, 2018 - Pilobolus dance company
Tori Olson, 2017 - Photojournalist
Tim Rowan, 2015 - Ceramic artist
Ira Barkoff, 2014 - Painter of imaginary landscapes.
Tim Prentice, 2013 - Kinetic sculptor who founded the award-winning firm of Prentice and Chan in 1965
Ghislaine Mahler, 2010 - Mask artist
Dan Snow, 2009 - Artist in stone construction
Toshie & Marico Chigyo, 2008 - Sashiko artists
Jeff Shapiro - Ceramic artist
Cypress and Nutmeg String Quartets
Sons of Another Planet, Greg Olson, Wayne Kirby, Roy Wooten - Musicians
A concert on all-clay instruments by Barry Hall's Burnt Earth Ensemble
A slide retrospective by Elizabeth McDonald, an accomplished ceramic sculptor
A slide retrospective by Janice Gordon, a sculptor and mixed media artist from New York City
Romig Streeter - Ceramic artist, with Aran and Maria Willow, caterers/ organic farmers.
Paul Chaleff - Ceramic artist/sculptor
Leslie Parnas - Cello player, with the Tourmaline Quartet
Christian Sands - child progidy piano jazz player
Jeff Fuller Trio